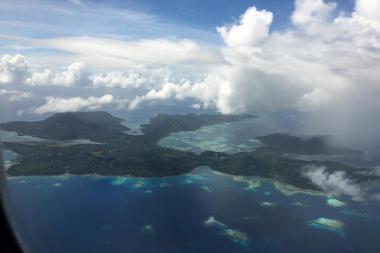 The Federated States of Micronesia, which stretches across a 2,700 km (1,677 mi) arc of the western Pacific, comprises 600 islands grouped into four states: Kosrae, Pohnpei, Chuuk and Yap. Each of these states has its own distinct language, and some have more than one language, and multiple dialects. 
While some islands have distinctive practices that make them stand out, Micronesian Catholic life is also particularly interesting for the ways that local cultures inflect "ordinary" Catholic life. In a culture where deference shapes almost every interaction, Catholicism interacts in notable ways with traditional themes of respect, humility and reconciliation.
The small, scattered population of just over 50,000 Catholics and its remote location might seem to make Micronesia a relatively minor story in regards to Catholicism and culture, but the accounts here from Chuuk and Yap offer unusual models, quite distinct from American, French, Spanish or any other European templates, of Catholic life and practice.
Francis X. Hezel, S.J., author of many books on Micronesia, sums up some of the variety, and signals why it can be so intriguing when we think about religious expression: "Yapese express themselves through dance, Chuukese through song, and Pohnpeians through drama and reenactment."