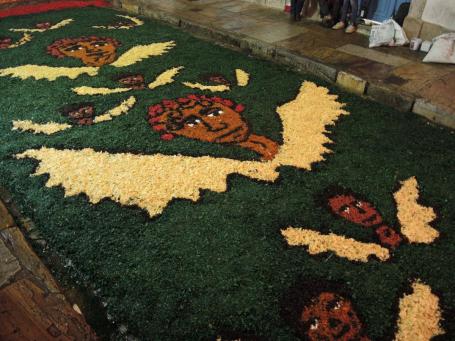 Most Catholics experience the faith through a single cultural lens. Yet people all around the world live and imagine it in a rich diversity of ways. Catholics & Cultures widens the lens with a scholarly, vivid and accessible look at the religious lives and practices of contemporary Catholics in countries around the globe.
Catholics & Cultures, an initiative of the Rev. Michael C. McFarland, S.J. Center for Religion, Ethics and Culture at the College of the Holy Cross, aims to foster comparative study of contemporary Catholic life around the globe and to provide teaching resources about Catholic life in all its richness and particularity—to explore what Pope Francis refers to as the "dialects" of a global Church. The initiative focuses on "lived Catholicism," the ways that ordinary Catholics practice their faith in their everyday lives. The initiative sponsors scholarly conversations, international conferences, and publications, including an electronic journal, The Journal of Global Catholicism.
The Catholics & Cultures website, a centerpiece of the initiative, serves as a growing, changing depiction of the global Church today for an international and interreligious audience. The site seeks first to provide insight into Catholic practices and beliefs as they are understood by those who live them. Second, it aims to understand those practices and beliefs in the context of the cultures they navigate and variously reflect, shape, and oppose. Finally, it aims to identify and link to select bibliographic and scholarly resources where readers can turn for more in-depth analysis and alternative perspectives.
The Catholics & Cultures website features research articles, interviews and bibliographies, photographs and videos, maps, graphics, video lectures and more to provide viewers a global sense of what it means to be Catholic today. Because culture is shaped significantly by social and economic conditions, the site also offers demographic data by country to aid in comparison and add perspective. Viewers can search by country or search cross-cultural themes among Catholic practices and values.
For example, viewers of the site may:
Consider the places in the world where Catholicism is practiced publicly, with religious displays in city squares, streets and stores, and compare to cultures where religious practice is more privatized and reserved for the home and sacred spaces.
Learn about the myriad Marian feasts and festivals celebrated around the world.
Explore the melding of Catholicism and culture and its influence on gender roles, marriage, family life and death rituals.
Discover the diversity of shrines, with ex-voto offerings such as flowers, notes and candles, tokens of miracles and healing, and elaborate works of art.
Watch a charismatic Catholic service or an Eastern rite liturgy.
Seed money for this project has been generously provided by donors wishing to honor Rev. Michael C. McFarland, S.J., and by the Holy Cross Jesuit Community.