Religious Lives and Practices of Filipino Catholics
Monday, January 18, 2016 - 12:00am

to

Wednesday, January 20, 2016 - 12:00am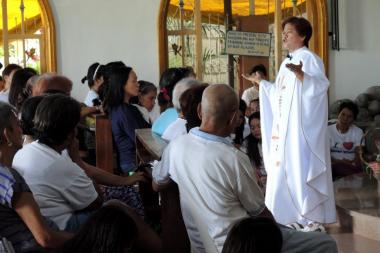 University of Santo Tomas
Institute of Religion
Philippines
A rich variety of religious and cultural practices mark different steps in the journeys of Filipino Catholics here on earth. Such practices prepare us for important transitions in our lives and give us ways to express our hopes, gratitude, fears and faith. Some practices are particular to a single town, island or province. Others are common across the archipelago, or are sacramental practices common to all Catholics across the globe. Inevitably, even the latter are expressed in a distinctively Filipino style, and interpreted through a Filipino lens.
This conference is an opportunity to describe these diverse practices, to explore what they mean to the people who celebrate them, and to examine how they relate to the particular social and cultural contexts that give them meaning.
The conference is cosponsored by Catholics and Cultures, an initiative of the College of the Holy Cross, and the Institute of Religion at the University of Santo Tomas, Manila, Philippines.
Like the Catholics and Cultures initiative, this conference focuses on "lived Catholicism," how ordinary Catholics practice their faith in their everyday lives, in ecclesial and extra-ecclesial settings, in private and family practices, in sanctioned or unsanctioned ways. Rather than seeking to apply or develop a particular theology, the conference will provide greater insight into how Filipino lay people understand the world, their faith and the place of Catholic practice in various stages of their lives. We will ask questions about how religiosity, and the meaning of a religious practice, may differ according to location, age, gender and social class. 
The presentations at the conference will incorporate audio and video examples of particular Catholic practices, and will explore ways that understanding local cultural context helps us to better understand the practices themselves.