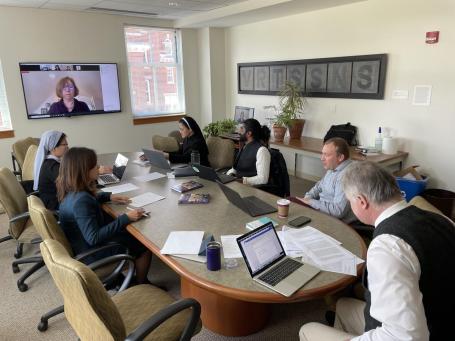 Six international graduate scholars have been selected to participate in the Journal of Global Catholicism's inaugural scholar symposium at the College of the Holy Cross on April 23, 2022. The group will present their papers and engage with established scholars in the field of lived Catholicism, including the Journal's founding editor Mathew Schmalz and managing editor Marc Roscoe Loustau, as well as cultural anthropologist Catherine Wanner, professor of history, anthropology and religious studies at Pennsylvania State University. Final papers will be submitted for publication in a future issue of the Journal of Global Catholicism.
The participants are:

Wilson Angelo Espiritu
"The Panata to Nuestro Padre Jesus Nazareno as Mystical-Political"
A lecturer with the Theology Department of the Ateneo de Manila University, Espiritu is a PhD and SThD candidate at the Katholieke Universiteit Leuven where he is part of the research unit "Systematic Theology and the Study of Religions" and the research group "Fundamental and Political Theology." His doctoral project seeks to develop a theological model for understanding the relationship between the Filipino devotion to Jesus Nazareno and political engagement.

Natalie Gasparowicz
"When Lived Catholicism is Dissent: Globalizing Histories of Católicas por el derecho a decidir & Catholics for Choice"
A PhD candidate at Duke University, Gasparowicz is a recipient of the Fulbright-Hays DDRA fellowship and is conducting her research in Mexico City this year. Her dissertation explores how and why various Mexican Catholicisms formed in response to the newly invented birth control pill in the second half of the 20th century. Instead of privileging the institutional Church and prescriptive texts, Gasparowicz focuses on how Mexican Catholics lived their faith in their bedrooms. Through the lens of "lived religion," Gasparowicz analyzes the papers of alternatively minded clergy and bishops, laypeople, and the media they consumed and produced.
Hansol Goo
"Worship Space and the Migrant Memory: Korean Ethnic Parishes in Los Angeles and New Jersey"
A PhD candidate in theology at University of Notre Dame, Goo's research interests include contemporary Catholic sacramental theology, Trinitarian theology, theology of immigration, global Catholicism, liturgical inculturation, theology of art, memory, phenomenology, and ritual studies. She earned a licentiate degree in history and cultural heritage of the Church from Pontifical Gregorian University in Rome, Italy. Her recent publication includes a chapter on the theological aesthetics of Joseph Ratzinger published in Italian, titled, "Papa Benedetto XVI e l'arte sacra: sofferenza e conversion per vedere la bellezza della verità," in Pope Art: Esperienza Religiosa, Estetica e Spiritualità (GBP: Rome, 2022).

Ngoc Nguyen
"Catholic Challenges with Confucianism and the Issue of Gender Equality in Vietnam"
Born in Hanoi, Vietnam, Nguyen joined the Congregation of the Lovers of the Holy Cross of Hanoi in 2005, taking her final vows in 2019. After receiving a bachelor's in English at Hanoi University in 2009, Nguyen worked as a team leader at Tuong Loan Parish in Nam Dinh, Vietnam. She then came to the United States in 2014 for further education. She received an MA degree in theology from the Aquinas Institute of Theology in Saint Louis in 2019 and a master of theological studies from Villanova University in 2021. Nguyen began a doctoral program at Marquette University in August 2021 with a concentration in Christian ethics. Her research includes the fields of Catholic social thought; ethics of sex and gender; Mariology; theology and sexuality; interreligious dialogue; and Confucianism-Christian theology. Upon completion of the doctoral program, she will return to Vietnam to teach theology.



Akhil Thomas
"Johann Hanxleden and the Rise of Malayalam Christianity from the Flames of Diamper: Re-imagining Global Catholicism through Malayalam Hindu Idioms"
Akhil Thomas is a second-year PhD student in South Asian religions at Harvard University. He grew up in Delhi and fondly remembers the summers with his grandparents in Kerala. He is a student of Indian Christianity, Kerala Hinduism, and South Indian devotional poetry. He is currently working on the poetry of the 16th-century Malayalam poet Poonthanam Nambudiri in comparison with the poems of 18th-century Jesuit missionary Arnos Pathiri.

Dung Trang
"Popular Devotion and the Public Presence of Vietnamese Catholicism: The Sanctuary of Our Lady of Lavang Villanova University"
Dung Trang is a doctoral candidate in the Department of Theology and Religious Studies at Villanova University with a concentration on Christian spirituality and historical theology. Her primary research interest relates to the relationship of faith and culture, Ignatian spirituality, devotion to Mary, theology of Vatican II, and Vietnamese Catholicism. Her doctoral dissertation is on the relationship between Marian devotion and women in the context of Vietnam. Sister Dung is a member of the Lovers of the Holy Cross Khiet Tam, Vietnam.