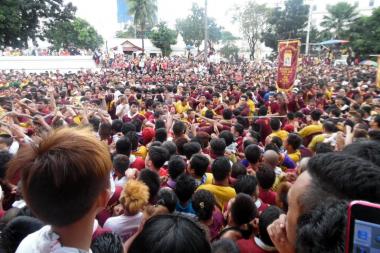 Wednesday, January 9, 2019
Every year on January 9, millions of Filipinos gather in Manila for a procession of the Black Nazarene, Poong itim na Nazareno, a life-sized statue of a suffering Jesus fallen under the weight of the cross, along a 6.5 km route from Rizal (Luneta) Park to the minor basilica in Quiapo. Few religious celebrations anywhere in the world can match this feast in terms of the number and fervor of devotees surrounding the procession.

The procession reenacts a seemingly minor historical event, the 1787 solemn Translacion, or transfer, of the image from its original home, where Rizal Park is now located, to its present home at the basilica in Quiapo. Most Filipino Catholics consider the Nazarene statue to be miraculous, able to heal terminal cancers and other sicknesses, to grant petitions, and to help those in need.